Please take a moment to find out what is new at Frazee. Below you will find the most current issue of our newsletter, The Renovator, along with general Frazee news and postings.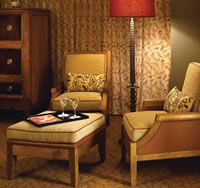 Frazee's Team Pushes to the End
by Lauren Schneider on Saturday, January 25th, 2014
When Frazee Inc. signed on to be a part of Extreme Village Makeover, they had a little bit of an advantage because they knew more about what they were getting into. A year and a half ago, they were the company that remodeled what we now consider the model villa that all others were based on.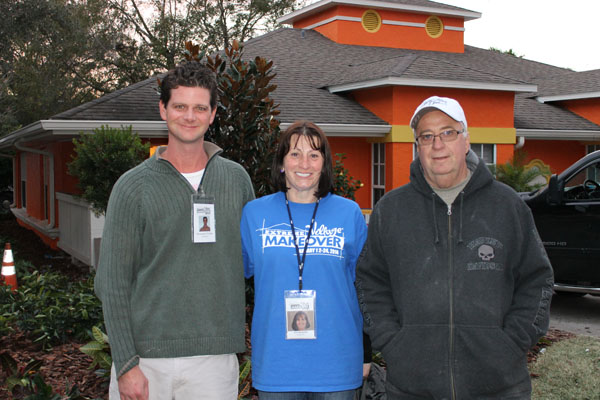 Alex Frazee (left) with members of his team.
Frazee had done remodeling work for Davidson Hotels, one of Give Kids The World's long-time partners. When they were approached about remodeling the very first villa, they were excited to be a part of the project. At the time, they did much of the work as an in-kind donation, contributing $60,000 in materials and labor at no cost to the Village. Their partnership on the project and immense generosity made them one of the first choices to be a part of the Extreme Village Makeover project. And the feeling for them was mutual. "We all thought it was an amazing place. It makes you want to be a part of it," said Alex Frazee, Vice President of Frazee Inc.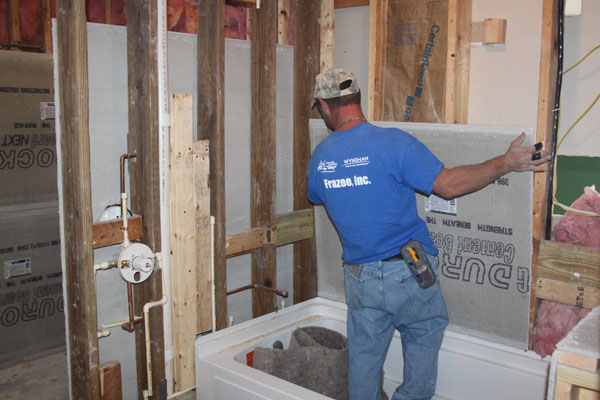 Progress during the early days of the project.
They took on 10 villas, many of which had a significant amount of work since they are some of the original villas that were a part of this renovation project. There are about 45-50 members of the Frazee team, and despite the fact that they have been working from about 6 a.m. to 1 a.m., Alex says his team is motivated by the mission of Give Kids The World. "Several of them have thanked me for getting them involved in this project. They see how unique this place is, and are glad to be a part of it. I think it's making everyone work a little harder," said Alex.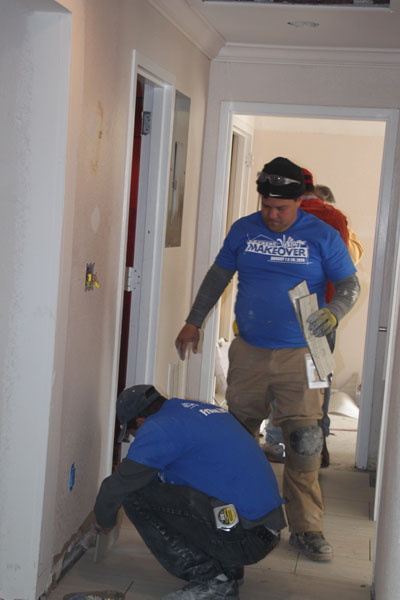 Now that the project is almost over, Frazee is in their final push to get their villas finished. Despite everyone's lack of sleep, the team remains motivated by the fact that they know the families are coming and they want them to be welcomed by the beautiful new accommodations they've created for them. It makes it even more unique because Frazee is a family company, and Alex has had his father and brothers who are all involved in the business come out to spend some time working on the project. Even the accounting staff came out to lend a hand by cleaning some villas. "Everyone wants to be a part of it. This is special, there's nothing like this we do anywhere else. It's for a good cause and it makes you feel lucky. We'd do it all over again for sure," said Alex.
---
Frazee, inc to Renovate 12 villas in 12 days for Give Kids The World
Friday, January 10th, 2014
Give Kids The World (GKTW), a nonprofit "storybook"resort for children with life-threatening illnesses and their families, has teamed up with Wyndham Vacation Ownership (WVO), the world's largest vacation ownership company and a member of the Wyndham Worldwide family of companies (NYSE:WYN), to launch an "Extreme Village Makeover" at Give Kids The World Village in Kissimmee, Fla.
The Extreme Village Makeover, scheduled to take place January 12-25, 2014 will renovate 100 of the 140 villas at Give Kids The World Village, updating the whimsical accommodations for families visiting for a week-long, cost-free fantasy vacation to upgraded hospitality standards. Construction will last two weeks with crews on-site 24 hours a day. The scope of work will include cosmetic and structural upgrades including: wood replacement, stucco and drywall repair, tile work, installation of new countertops, fixtures and crown molding, exterior and interior painting and electrical updates, just to name a few. (Keep reading about GKTW HERE)
Frazee, inc's mission is to work around the clock for 12 straight
days to completely renovate 12 different villas. We are excited
to accept this challenge for such a worthy cause!
---
Frazee Newsletter, The Renovator, Issue 3
September 1, 2007
Frazee, inc recognized by the Business Chronicle and INC Magazine. Employees receive award for outstanding service.
Frazee, inc moves up to number 6 in "Atlanta's Top Interior Commercial Contractors" list
June 15, 2007
Frazee listed as number 6 on Atlanta Business Chronicle's "Atlanta's Top 25 Interior Commercial Contractors" list.
INC Magazine spot lights Frazee, inc.
INC Magazine selected Frazee, inc. as one of the fastest growing private companies in the country in their August Edition.
Frazee, inc. employees recognized for exemplary service
The American Resort Development Association nominates two employees for awards and taps Daniel Frazee as a winner.